Welcome to David Roberts Joinery
We are a small, family run joinery company based in the beautiful Peel, Isle of Man. Established since 2012, we have always valued our approach to manufacturing and producing high quality, unique products. Due to the small nature of our team, we believe this is an important aspect when consistently delivering a personal service to each of our customers.
We manufacture goods for any purpose, whether it be in your home, garden, commercial jobs or helping out the community. With 20 years of joinery experience, you will be taken care of by knowledgeable craftsman who are guaranteed to satisfy your requests. We ensure we manufacture to the highest quality and will support you with advice throughout the process regarding materials, aftercare if required, and colours, to ensure you get exactly what you want.
At David Roberts Joinery we always work with you to cater your needs. Whether it be internal or external doors, casement or sliding sash windows, stairs, conservatories, or even your garden gate! We always welcome customers to get in touch with any of your joinery requests, big or small.
We often use materials such as Accoya and Utile for manufacturing outdoor products as the quality guarantee results in a long lasting product, taking away that worry of replacing an item after only so many years.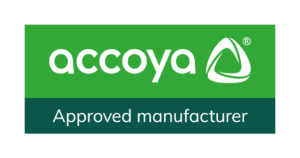 For more information please visit the Accoya website HERE.
We also use Tulip wood, for jobs such as internal mouldings, as this is most suited indoors. Although we focus highly on using these materials, we are still able to use the wood of your choice, granted it is suitable for the job requirement. We are very flexible with the wants and needs of customers and try our best to accommodate this. Advice and alternatives will be offered if any materials requested are unsuitable, and we will help guide you through the process for best possible outcome.
Due to our small team, we are able to offer a personal service, this is something we consider as a large advantage as personal touch can be lost with larger companies. You will always be in direct contact with David, whether you wish to pop into the workshop whilst the production unfolds, or simply ring or email. We operate by using traditional bench joinery methods in conjunction with modern machinery in order to manufacture our products to the highest quality.

We will organise for a free, no obligations quote after you get in touch and if what we do is simply not for you, it's no problem! We create all detailed drawings in-house with our online software, we then manufacture, spray and fit all the jobs ourselves with no help from other outsourced or subcontracted employees. This is important to us to uphold our high quality standards.

With our open door policy, should you wish to see what we are all about, you can see our opening times in the 'contact us' tab of this website. Although, please keep in mind that we also visit customers regularly and are often out of the workshop to fit the products we manufacture, so this is a friendly message to advise calling ahead. We would hate for you to waste a trip!